Top 25 Celeb Mani And Pedis That Are Trending Like Crazy Right Now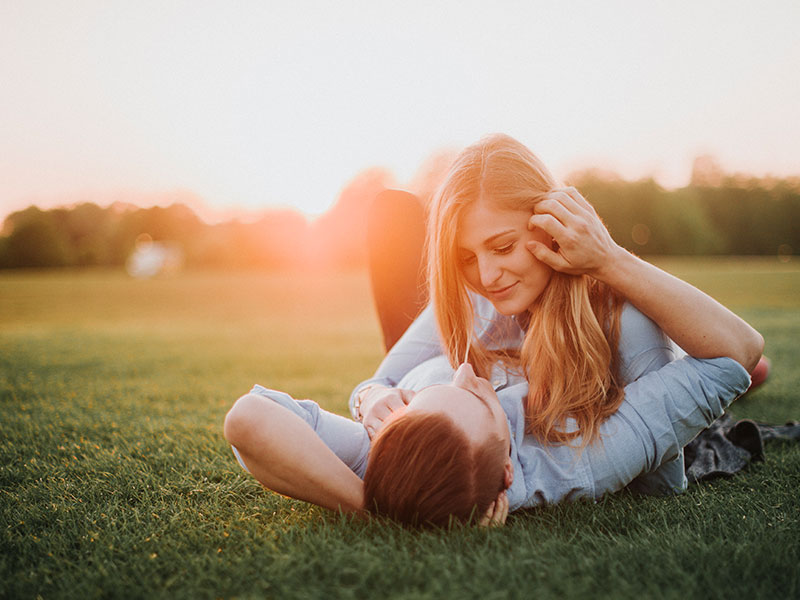 Just because the sandals have disappeared doesn't mean we can't keep our manis and pedis on-trend. Nail art has truly exploded over the last couple of years, as more and more celebrities start to get more daring with their styles. As we all start to embrace our honest, vulnerable selves, the wacky and independent styles start to emerge.
There's been more experimentation with form, color, and design elements over the last two years than we've seen in ages. It's refreshing, beautiful, and we're excited to see where the rest of these styles develop in 2019. There's a celeb style out there for everyone, and we've compiled 25 of the best ones.
Looking for some inspiration? Or maybe just hoping for an update on all the most recent mani/pedi trends before they go through another big change? We've got it covered. The styles that have been appearing on celebs' hands consist of bright colors, cool cut-outs, and patterns galore. We might never reach Blake Lively's amazing level of coordination when it comes to nails, but we can try and embrace some of these totally trending nails. There's no reason to relax on their nail care now that summer's gone. Many of these styles transcend seasons, making these the perfect manis and pedis to embrace.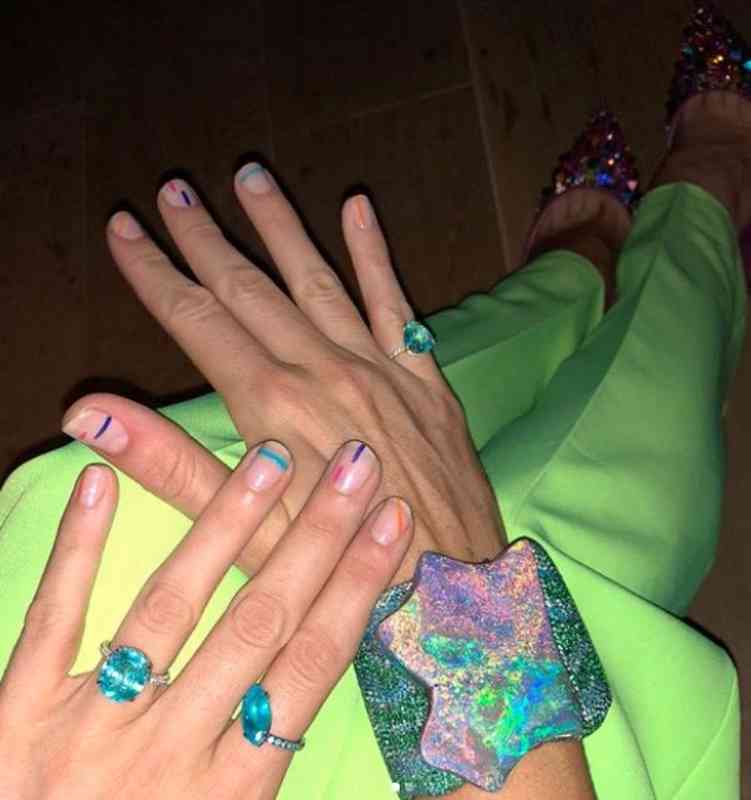 25 Blake Lively Blows Us Away With This Negative Space Mani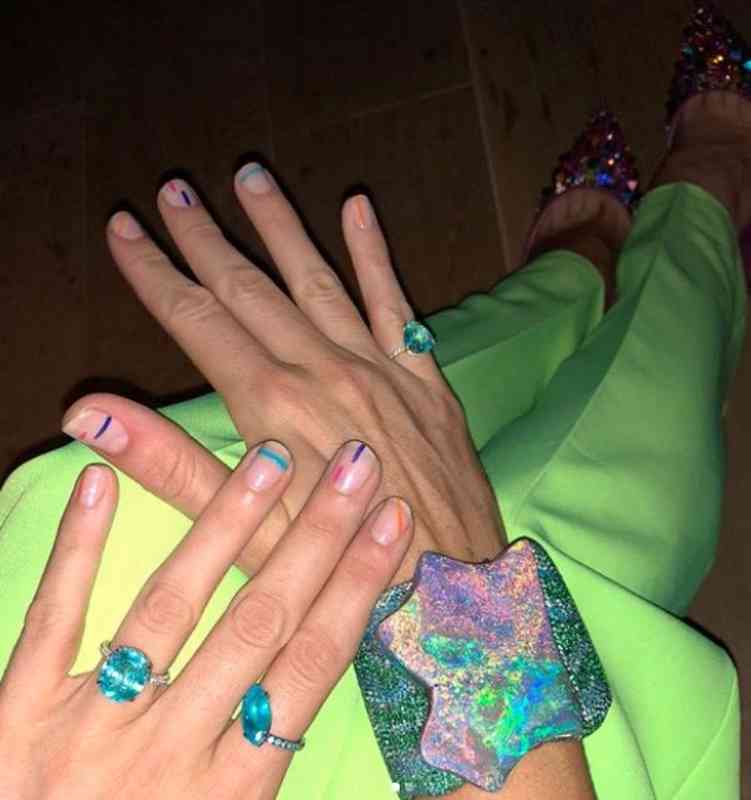 Blake Lively is probably the pinnacle of fashion right now. Not only does she have some of the greatest suits out there, but she's always got unique and creative accents. Blake Lively is all about the details, which is part of the reason we're always watching her for the hottest nail trends. The girl never forgets her manicure. This negative-space manicure is a creative accent for any outfit. Choose your own colors and pair it with any outfit in that closet.
24 Pearly White Is Perfect, According To Kylie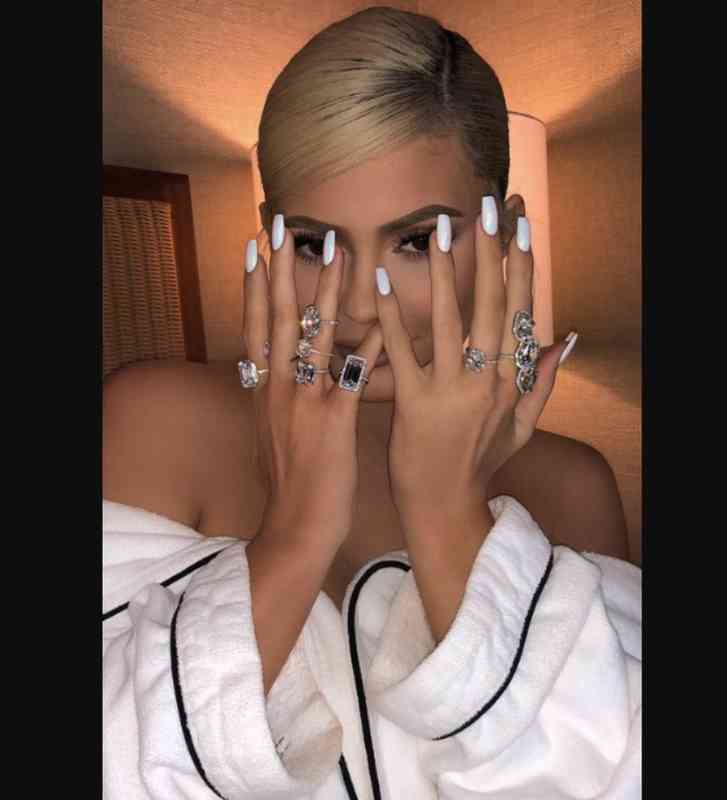 This instantly viral social media pic snapped of Kylie in her white nails brought a whole new meaning to celebrity-level pearly whites. The pretty, plain color really pops against her tanned skin, and it's a look that many of us can pull off too. While we might not opt for nails that are this long, we certainly would love to rock this white as part of our upcoming cute fall/winter outfits. Crisp, clean, and easy to pair with any outfit. What could be better?
23 Pretty In Pink? Make It More Fashion Forward With This Dusty Rose Hue That's Been Seen On Celebs Like Hailey Baldwin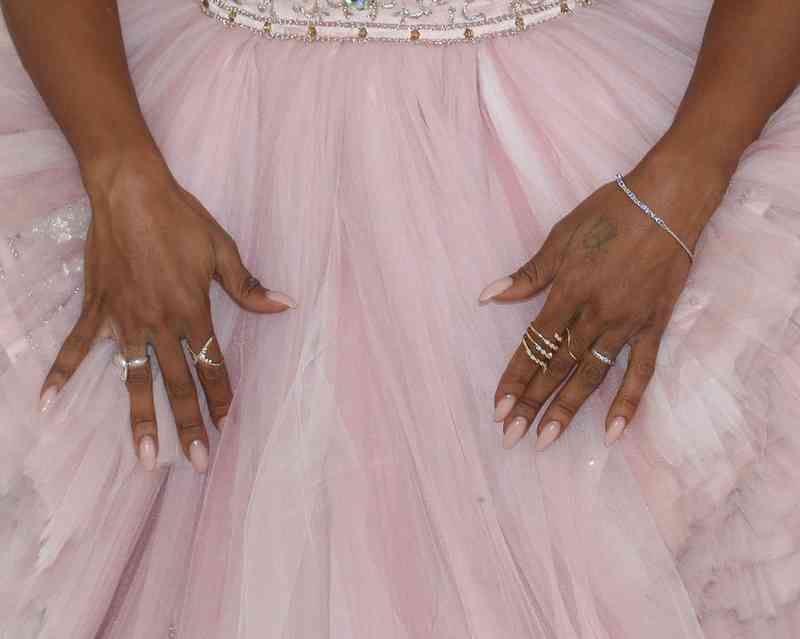 Many celebs have been spotted rocking these peachy nails. They've been a choice color for many sweet styles, and are a staple for spring almost every year in our books. However, this year there's been an unspoken understanding that this soft, dusty rose is the new basic color. Popsugar's article on Met Gala nails featured dozens of varieties of this shade, and Seventeen points out Jordyn Woods as being one of the most recent celebs to rock this feminine color.
22 Kim Kardashian-West Has A Pierced Manicure On… But Will It Trend?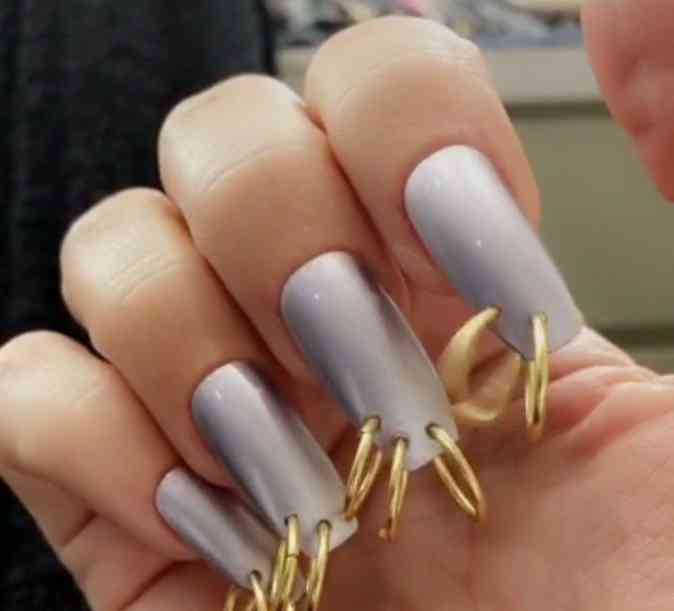 We can't believe we almost missed this wannabe trend when looking for hot nail art. Not only do these nails have some of the most creativity behind them, but they were also worn by the nearly-supernatural Kim Kardashian-West. Kim K's word is law when it comes to fashion trends, but this manicure might be different. We're not sure the pierced nail look is going to catch on for daily wear, but we'd be down to rock a little diamond ring pierced through our pinky nail.
21 Two-Tone French Manicures Are Totally In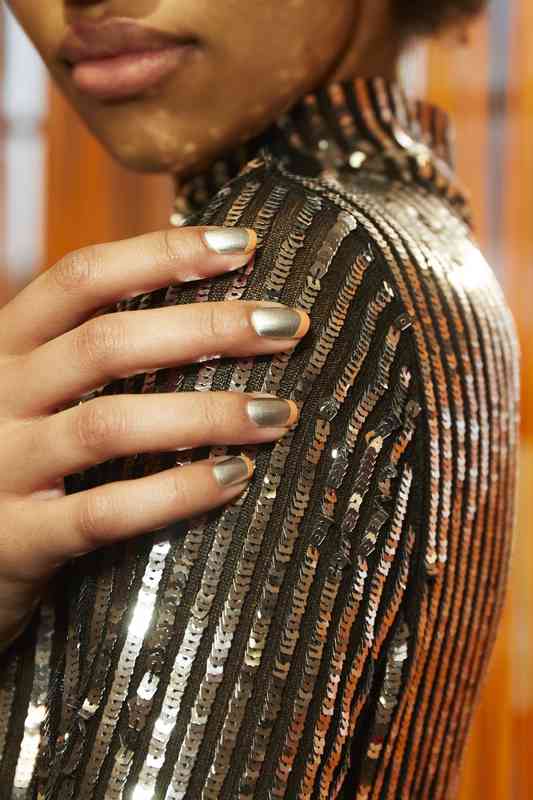 Two-tone manicures are nothing new in the world of fashion. We've probably experimented with two-tone nails before as well, but before we even knew what kind of trends we were following. Harper's Bazaar mentions that this was a look seen on Tanya Taylor's runways of Fall 2018 fashion, making it truly a current trend. To get the look is easy: all it needs is two different colors, at least one of which coordinates with the outfit. Then all we have to do is treat it like we're doing some French tips!
20 But Yara Shahidi's Is Upping The Anti With A Reverse French Mani/Pedi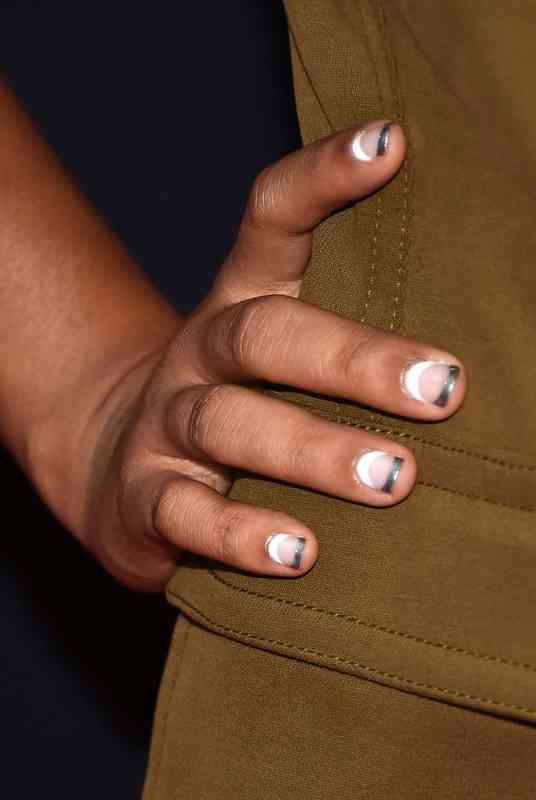 Seventeen pointed out this super cool nail trend that we never would have picked up on had we not seen a close up of these split-focus nails. This contemporary twist on the French tip features a colored cuticle as well as a top tip. The result is an eye-catching (yet subtle) flair that adds some creativity to even the most standard style. We love these nails for our own selfish reason too: they're super easy to do at home, with a little bit of practice.
19 Glitter Tips Are Still Good, According To Rita Ora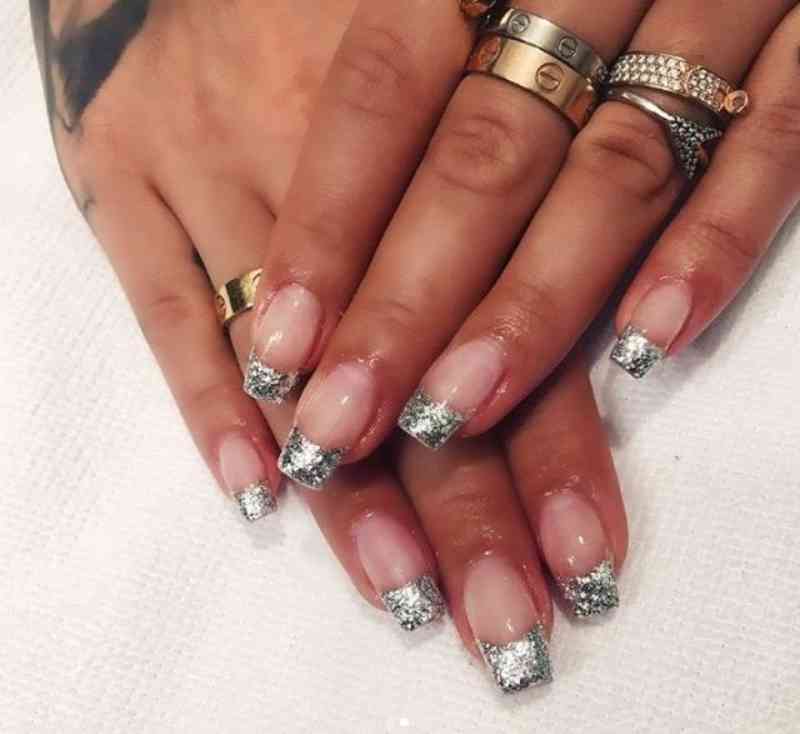 Leave it to Rita to know what's still good. Rita Ora seems to be doing a little bit of everything lately. We've seen her name everywhere, even though we can't pinpoint exactly what she's working on now. At this moment it seems like she's working on keeping up on nail trends. She was seen rocking this amazing glitter tip manicure, as Elle points out. We absolutely love the style of this manicure, even though glitter is always a tricky polish to work with.
18 Kendall Jenner Is All About This Electric Orange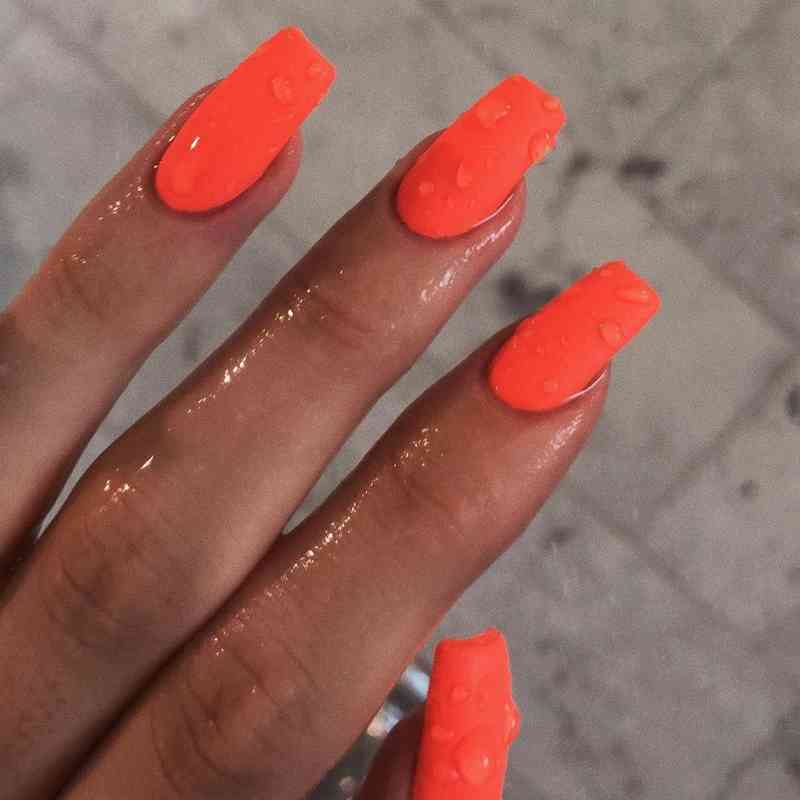 The Kardashian/Jenner family must share nail polish color palettes or something. This orange polish was featured on Kendall Jenner, but according to Seventeen, the orange color was seen on several of the other girls. They all rocked it in their own way, proving that it's the color that's truly trend-worthy. If we don't want to commit to a full set like Kendall, the color makes for an excellent accent nail or orange tip. Just in time for pumpkin season too!
17 Ariana Grande's Picture Perfect Nails Are Still On Point (But Less Achievable For Us)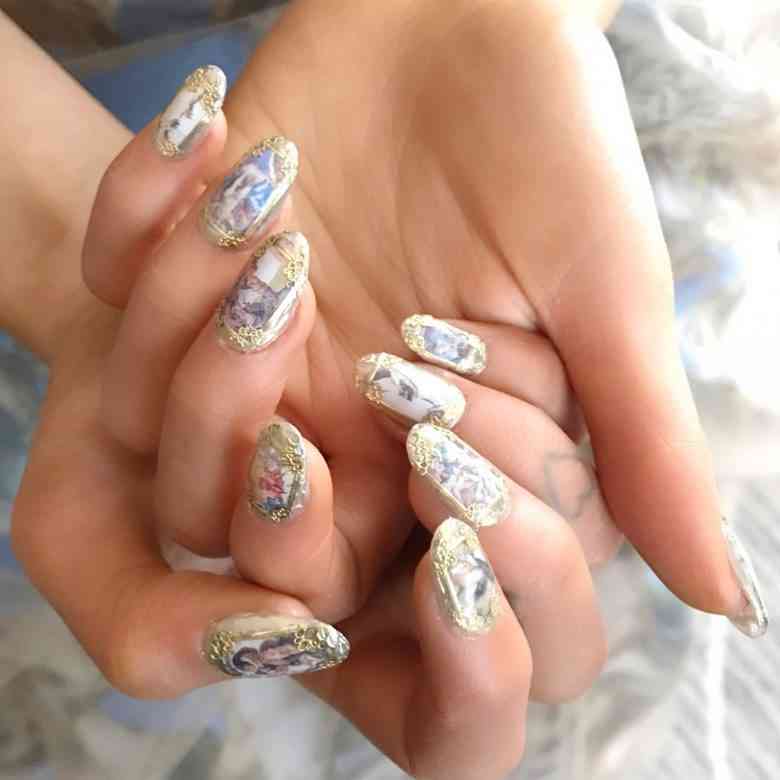 Ariana Grande's nails are transcending any and all expectations we've ever had for nail art. This goes past polish: this is pure artistic fire, and it gets hotter and hotter the more we look at it. The detail work on this manicure is brilliant. From the tiny figures to the cloudy styled overlay and gold edges, this is the trend that we're sure would take off… If any of us could do it ourselves. As it stands right now we have no hope that this manicure would ever hit our fingers. If it could trend, it would, though.
16 Everyone Can Get Their Hands On Gucci Thanks To Halsey's Inspiration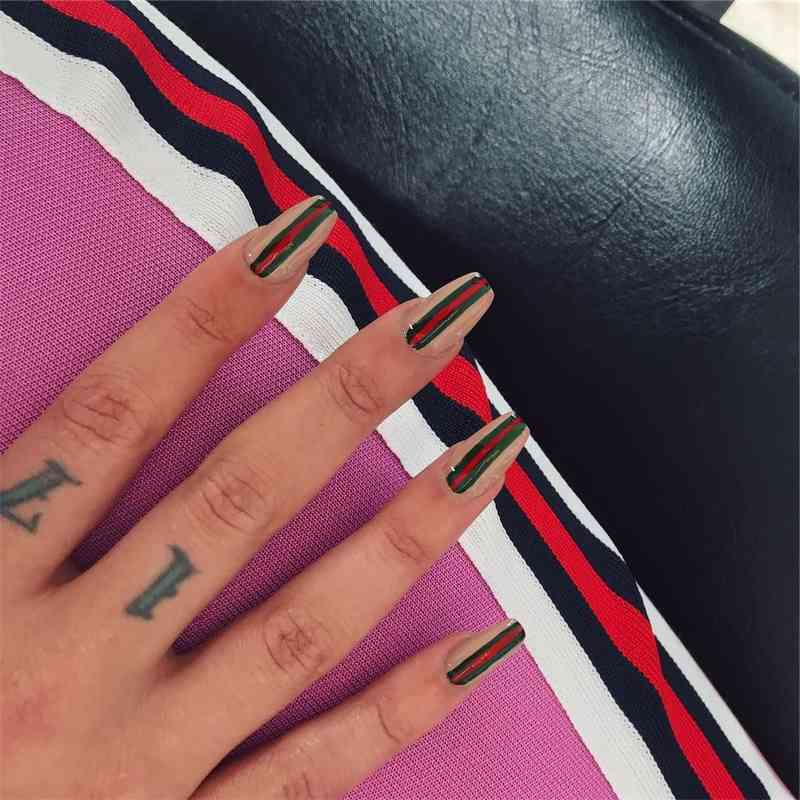 Elle showed us this super cool style, with tiny nail polish stripes that perfectly match up with Gucci's signature green, red, and tan stripes. While we don't think Gucci has perfected a tri-color, Gucci-labelled nail polish yet, we do believe that this is a perfect artistic step in that direction. Getting Gucci nails is as simple as getting the colors right, as Halsey shows us in this photo. She's looking fancy and fresh, and it's all thanks to the polish.
15 Heather Sanders Jelly Nails Make Us A Little Jelly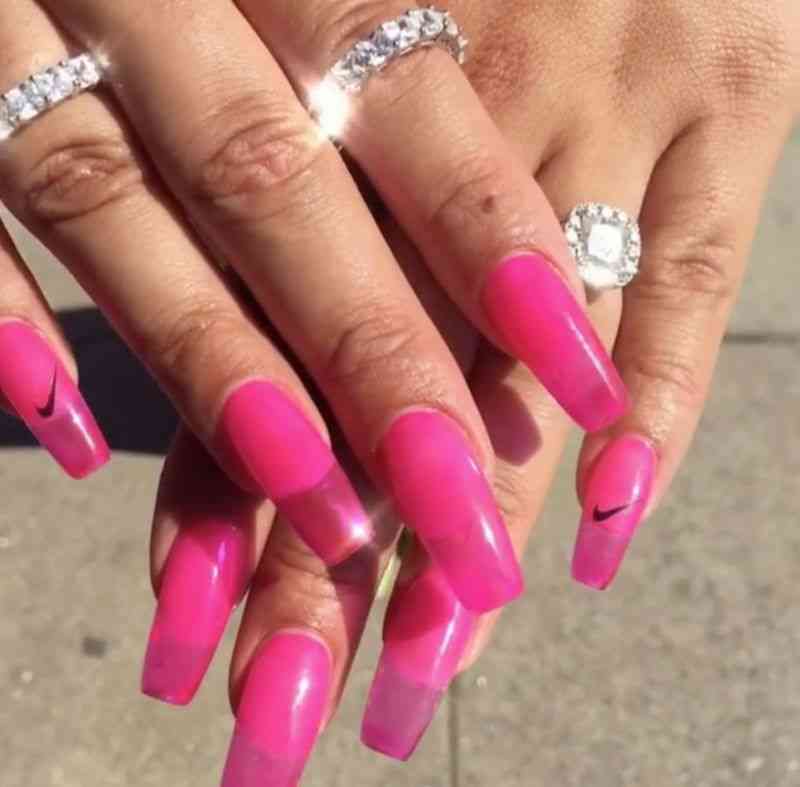 Summer wasn't the same after jelly nails became a trend. Kylie Jenner made the coffin nail style super popular this year, while Seventeen mentions how she and her friends introduced the concept of jelly nails. Heather Sanders wore these bright pink nails with the Nike swoosh, inspiring us to just do it as well. We're seriously itching to try these jelly nails. Choosing one of these brighter colors might be tempting, but with fall coming it might be time to consider a more neutral jelly.
14 Colored Half Moons Are Moschino's Most Loved Look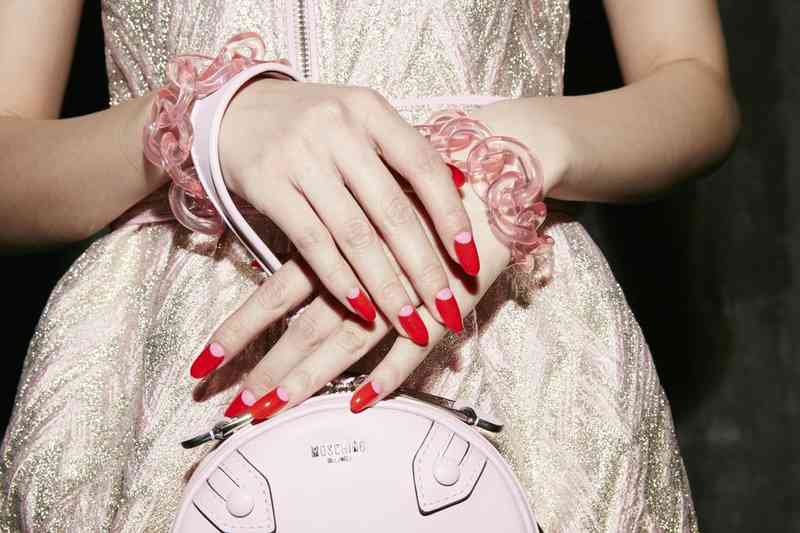 Another hit from the catwalk, Moschino seems to believe that half moons are the style of the season. While we couldn't find any specific celebs that have been rocking this look, we guarantee that it's only a matter of time. Harper's Bazaar mentions how the half moon look was a favorite on Moschino's Fall 2018 runway, making us excited for the coming season's casual looks in both fashion and makeup. Time to break out the two-toned manicure level of patience so we can do it on ourselves!
13 Kim Kardashian-West's Nail Art Is Going To Be A Top Trend For Valentine's Day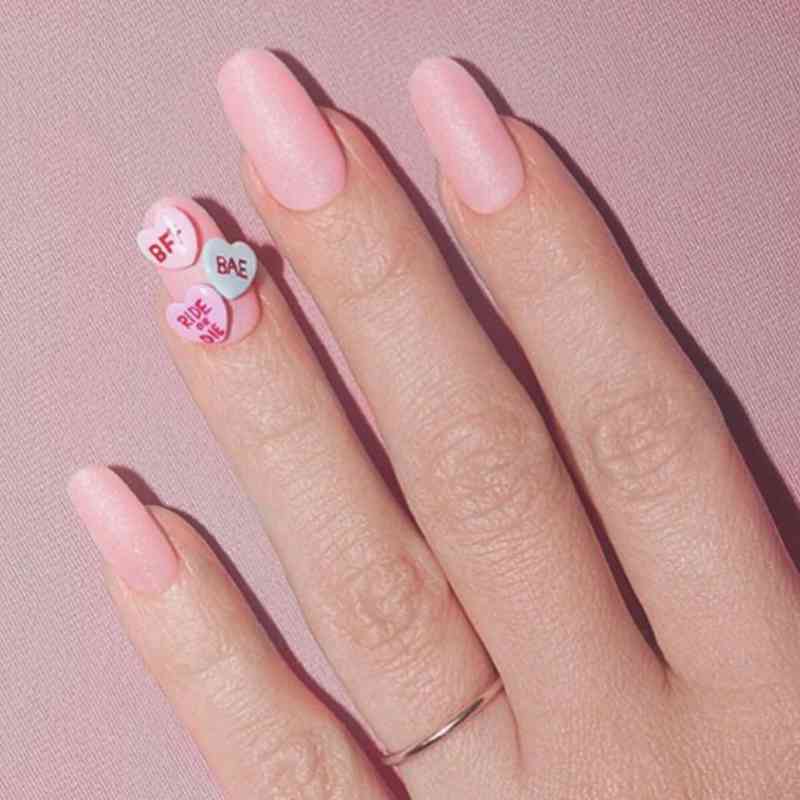 Kim K crafted this creative manicure which we absolutely fell head-over-heels for. Elle tells us that it was a Britney Tokyo work of art, which we totally believe. Tokyo is one of our biggest nail inspirations and is a great manicure artist. Elle says that this look was crafted specifically to promote Kim Kardashian-West's perfume that launched last Valentine's day. It's gorgeous, it's sweet, and it's a little playful. It might not be practical, but since when does art make practicality a priority?
12 Cardi B Is Bringing Back The Stones - Rhinestones, That Is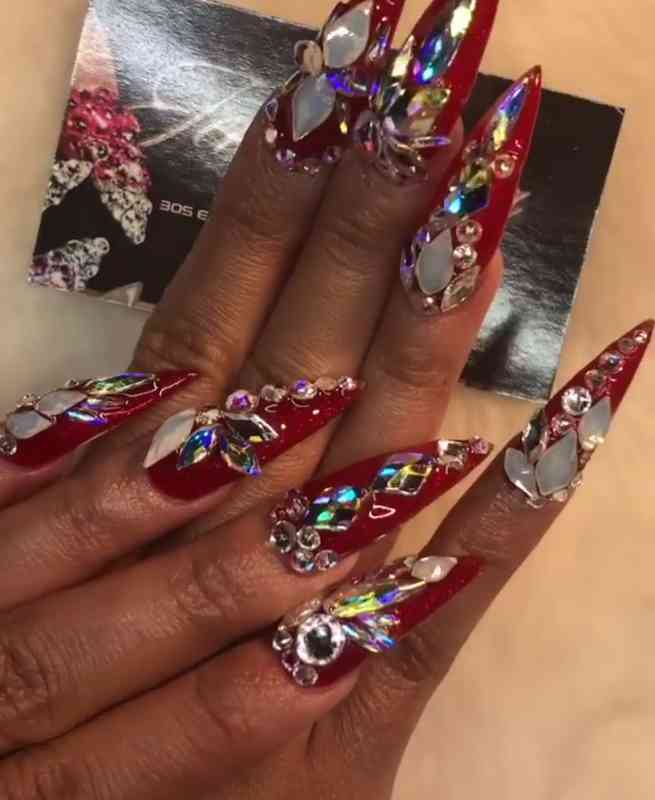 Cardi B always kills it with the nail game, and it's no different now that there's a mini-B in her life. Her style is always going to stay the same, right down to the rhinestones on her nails. These rhinestones are a signature Cardi B look, who's been getting them done by Nails on 7th for ages now, as reported by Popsugar. Glitter and glam aren't just for necklaces anymore, as Cardi B shows us. This might be a trend better applied by professionals, though.
11 Katherine Langford Is Glowing In Gold (Which Is This Season's New Basic)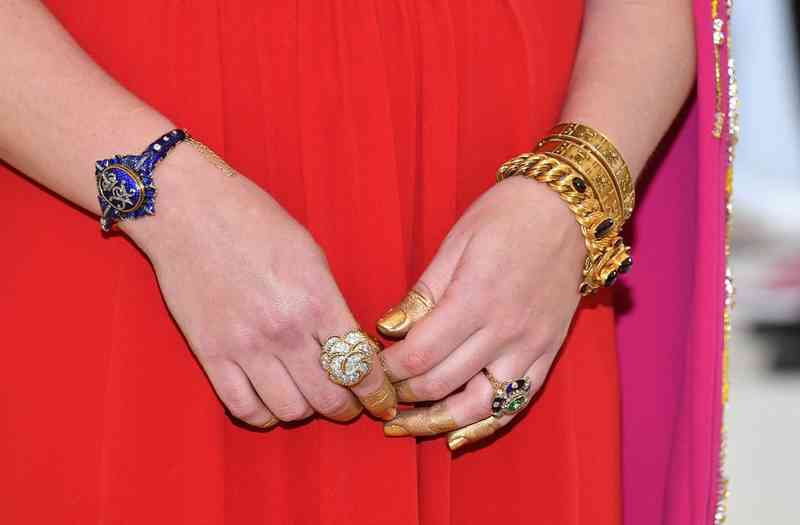 If there are only two colors to pick up this season, it's a peachy pink basic and this solid gold. While we don't suggest dipping the whole fingertip into it, Katherine Langford decided that that was the best way to get full coverage. Popsugar points out that this was specifically for a high-profile appearance; not an everyday style. Still, gold is a great basic that definitely turns heads. This is a gorgeous look that we would be happy to add on top of our nails (but definitely not on the skin).
10 Negative Space Used To Be Reserved For Fingers, But Now It's On Toes Too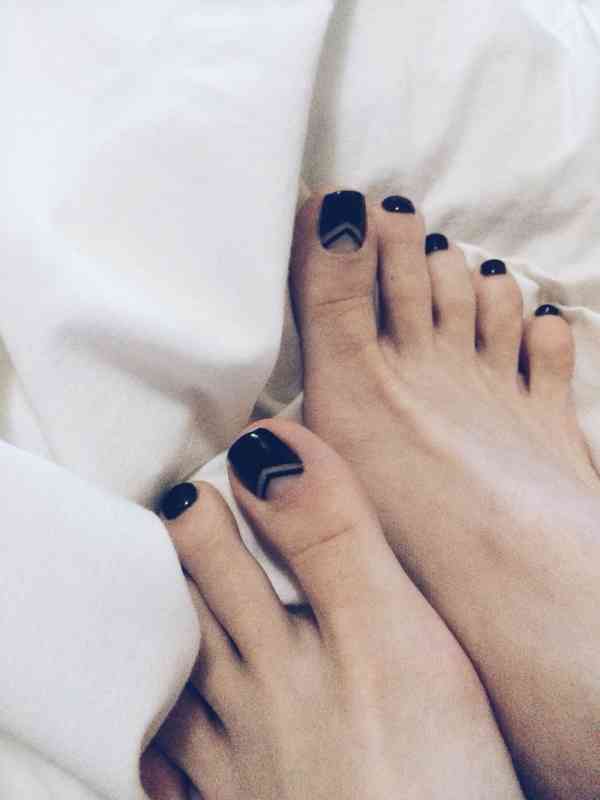 We talked a little about Blake Lively's negative space manicure in the first point, but negative space is actually an effective nail art tool that can be used as a pedicure as well. More and more celebs are utilizing negative space to create creative and long-lasting nail art. This negative space-styled pedicure will last well into winter with the way the cuticle is left plain. This means there's not going to be the same kind of awkward grow out. Talk about bang for our buck!
9 The Classic Trend Of Color Coordinating Nails With A Mono-Color Outfit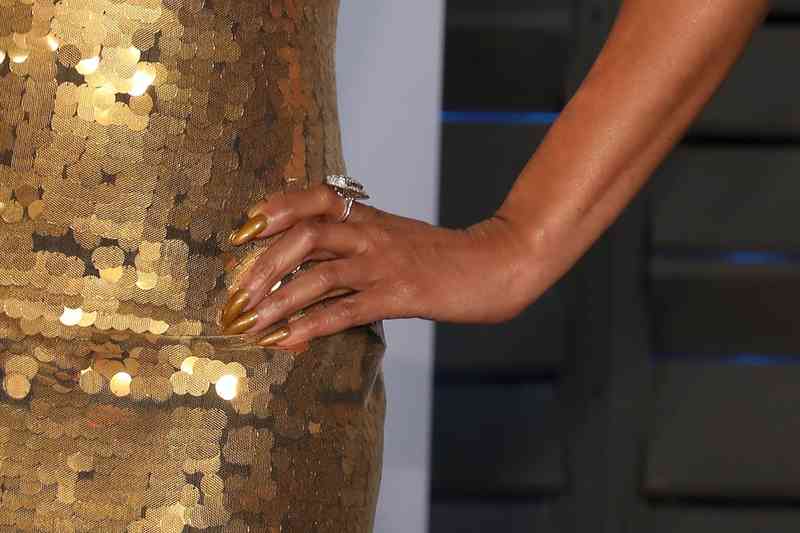 Color coordinating our nails to our outfits is one of the small joys in life. It's been a standard choice for many celebs, and in the wake of some of the Kardashian outfit choices, it might be a smart one. Gold is a popular color, both in clothes and on nails. Gold tends to look good on many different skin types, making it a versatile choice that anyone will appreciate. The mono-color style is definitely going to stick around, especially if Kylie and Kim keep rocking it. Picking up some nail polish to match truly finishes off the details.
8 Lily Allen Loves Her Patterns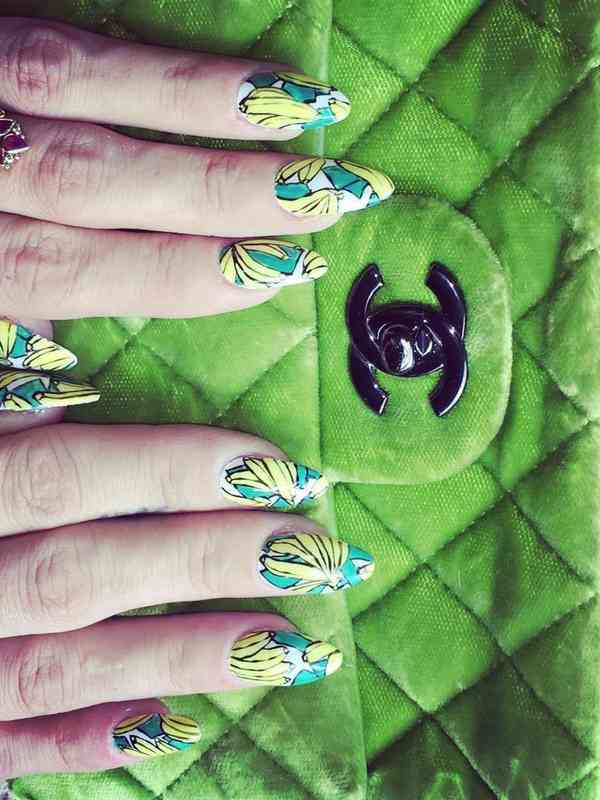 Lily Allen seems to be a pattern lover. While we haven't heard much from her in the last couple of years, the songs she's released are enough to keep our love for her alive. This leaf and banana set just adds more and more love on to the pile of love we have for her already. The style of the nails makes it truly a statement piece in this outfit. There's nothing wrong with that, as the look is absolutely gorgeous. We'll certainly be embracing bold nail patterns thanks to Lily!
7 While Zendaya Has Been Rocking Those Nail Motifs Lately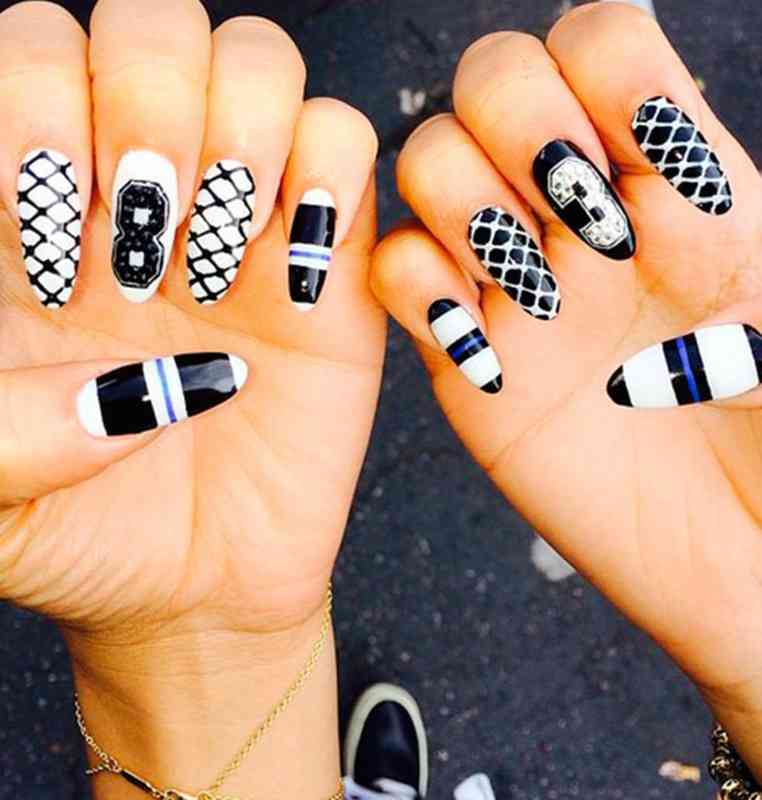 Zendaya is our newest fashion icon. She's got incredible style, as well as an amazing brain. Her creativity shines through in everything she does, making her one of the most compelling young artists to watch. The creativity is even seen in her nails. While this is one of her more calm nail motifs, Seventeen points out some of her other favorite ones; that included a superhero-themed set of nails that took our breath away when we saw it on social media. All this to say, don't be afraid to play with patterns this season. The trend is strong.
6 Kylie Jenner And Friends Have Been Spotted Rocking These "Coffin Nails"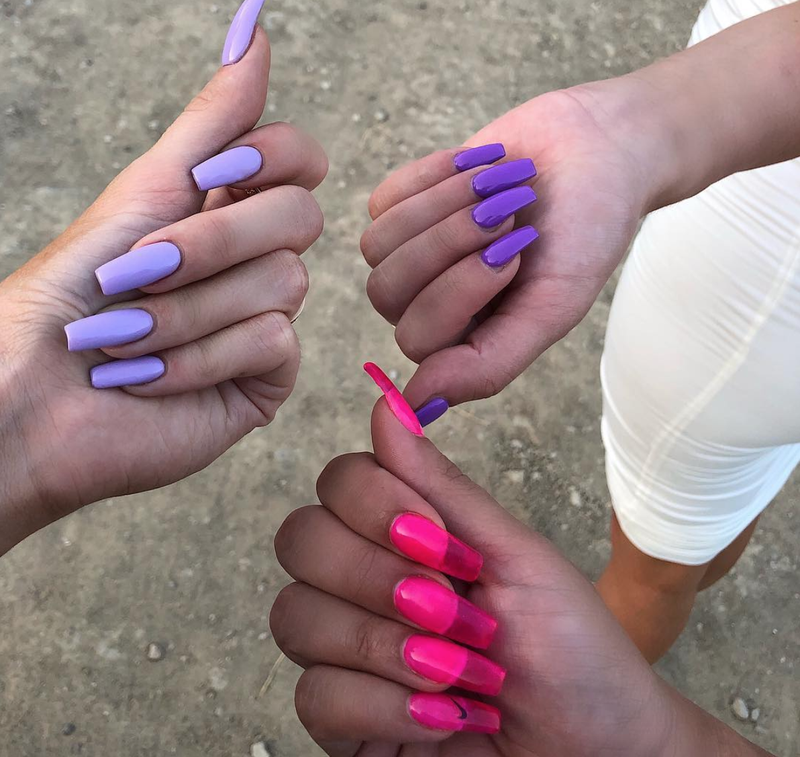 This trifecta of beauty is the quintessential summer style that everyone spotted on Kylie Jenner and friends. The coffin style nails paired perfectly with the bright pop of summer colors. Seventeen shows us these three hands, featuring most notably Kylie Jenner and Heather Sanders. While we did a close up on Sanders' jelly nails, the other styles and colors in the photo deserve a little love too. Bright was right this summer, and we're hoping it lasts all way until next August.
5 Khloe Kardashian Brought This Bright Yellow Back Into Fashion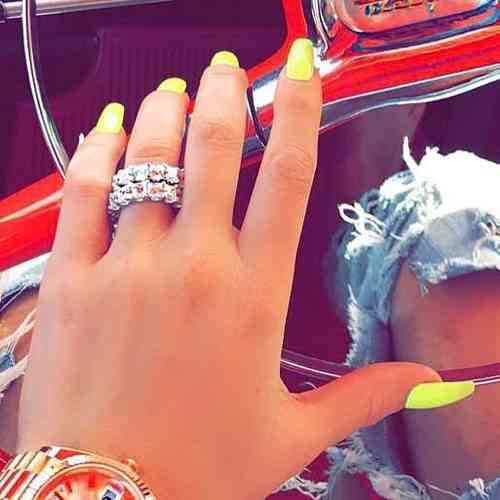 Seventeen shows us that Khloe Kardashian was also getting in on the neon nail trend. While she's been seen in some bright colors before, we've never really spotted this kind of brightness in her nail polish choices before. A big fan of the bright colored bags, Khloe has now embraced the brightness in other statement pieces too. Her nails are just one piece of the beautiful puzzle that is Khloe Kardashian. We're so glad that she embraced this color; we can't wait to bring the sunshine to our days with this yellow too.
4 Rihanna Went Red, And Now We Want Too As Well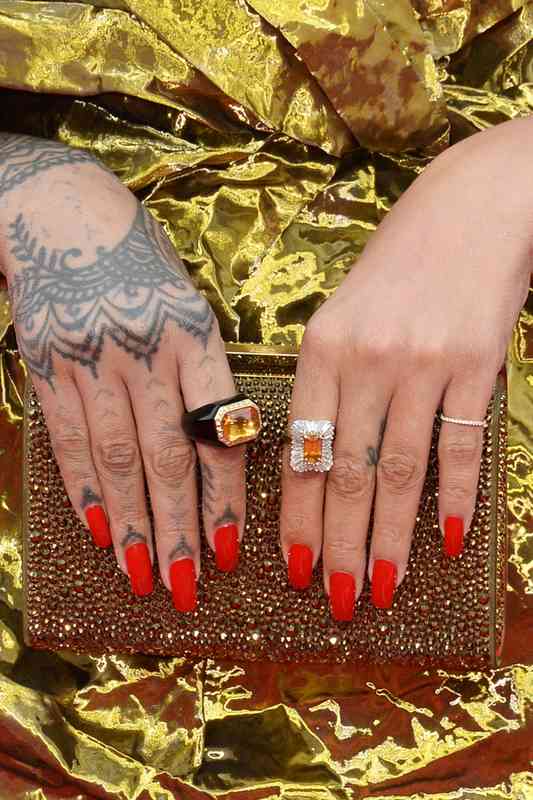 Rihanna is rocking red, and we can't get enough. Not only does this woman have a fire in her soul, but she also has a fire on her nails. The bright red stood out against her gold dress but matched the red carpet she was strutting down well. This red is more of a cherry than a wine red, making it truly eye-catching. The color is a classic that all of us should have in the form of lipstick, nail polish, and shoes. Don't have a bright red? It might be worth picking one up. Looks like it's going to be sticking around this season.
3 Kylie Jenner's Metallic S Makes These Monogram Nails Pop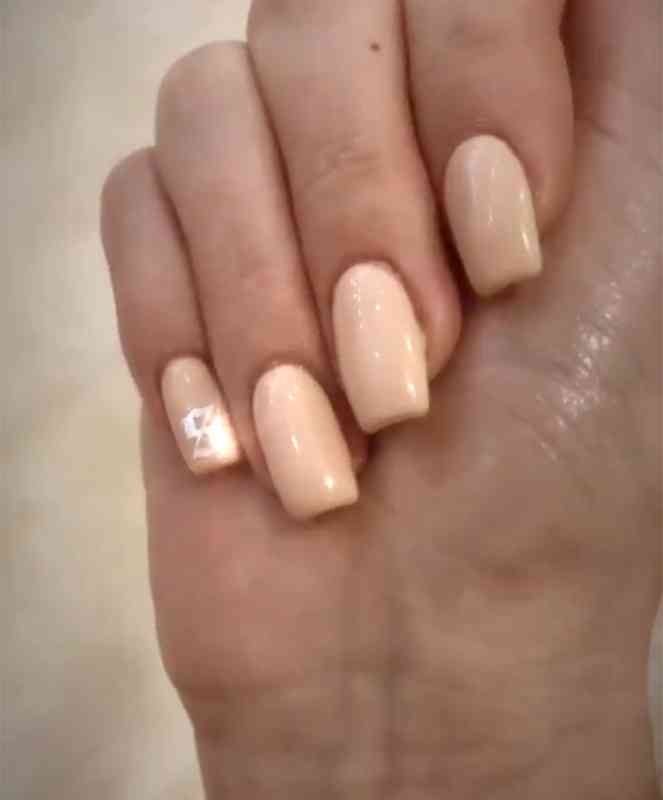 Can anyone guess what the S stands for? That's right! These fashionable nails might have been subtle, but they were also full of love. The monogrammed S on Kylie's nails apparently stands for Stormi, according to Seventeen. The letter is done in a light-catching silver, adding a touch of sparkle to her otherwise nude nails. The peachy base is a perfectly on-trend color choice, as it's been seen on stars like Hailey Baldwin (which we discussed earlier). Not only is it a loving choice, but it's a super cute one!
2 Vanessa Hudgens Loved This Matte Brown Mani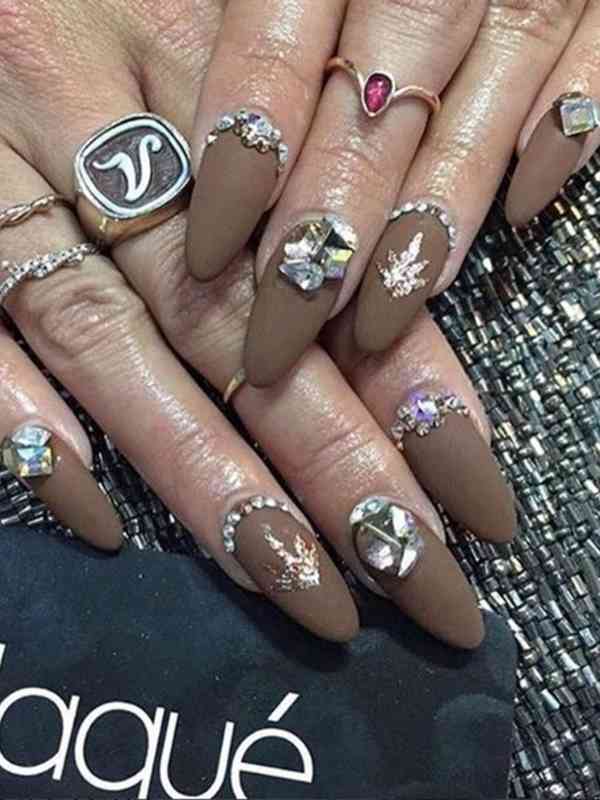 Wondering what these brown nails were for? Believe it or not, Elle says they were Vanessa Hudgens' pick for Coachella. The color is a unique choice, but one that suits her classic-chic style. Plus, matte brown means that the dirt won't show. The slight bedazzling might be a call back to the Cardi B trend of rhinestone and jewels in the nails, or it could have been a magic Coachella crystal. Whatever it was, we're in love with this professional but fun mani.
1 And Finally: Blake Lively's Drop-Dead-Gorgeous Deadpool Nails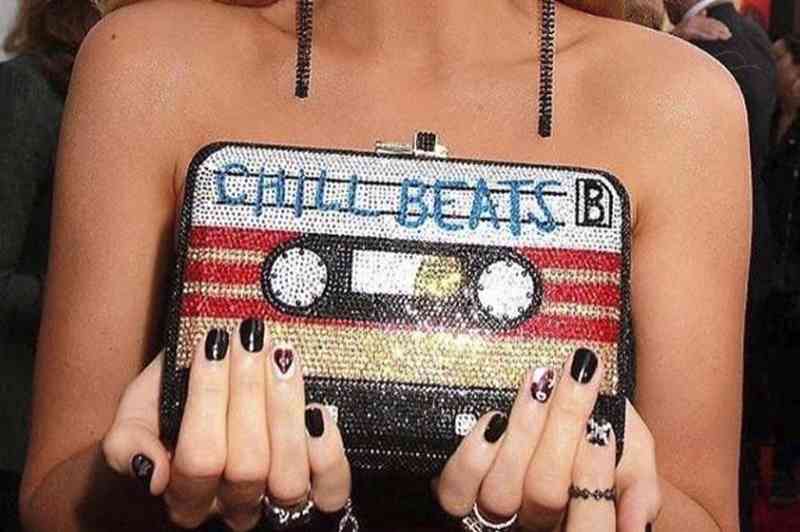 Remember when Blake Lively did a Deadpool manicure? If not, get a load of this. Themed manicures are totally a trend this year thanks to Blake Lively. Allure talks about the fact that she put homages to Deadpool on every finger, matching the beautiful dress and themed clutch she embraced as well. The next time we're stuck for nail inspiration, this is where we're looking. Wearing something we love on our fingers isn't just for wedding rings anymore. It's also a great way to up our polish game!
References: allure.com, popsugar.com, seventeen.com, harpersbazaar.com, popsugar.com